Stay on top of your PrEP*
*if nothing else
Preptrack helps you make plans around your event-based PrEP with confidence. Now on the App Store. Coming soon to Android.
Find out how to volunteer with us or contact us to discuss partnership opportunities.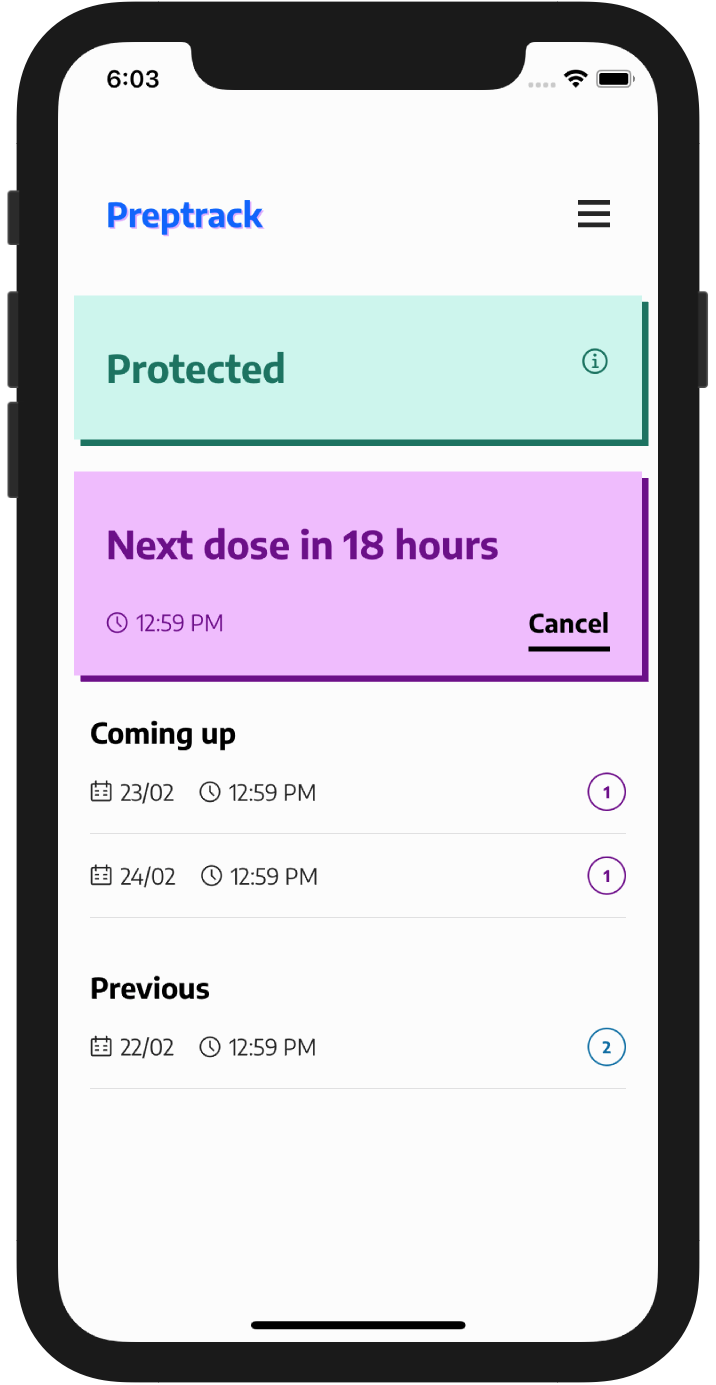 Just like sex, PrEP is personal to you.
Preptrack works by asking about your comings and goings, then tells you when your event-based PrEP is working so you can make plans with confidence. You can tell what's up with just a quick glance whether you are gearing up or ready to go.
Hold up, what is event-based PrEP?
Event-based (a.k.a. on-demand) dosing means you only take PrEP when you know, or have a pretty good feeling, that you are going to have sex. Taking PrEP in this way is helpful if you want protection but find taking PrEP daily a bit of a struggle.
But why not just take PrEP daily?
Taking a pill every day doesn't suit everyone. Whatever your reasons, event-based PrEP can be a safe and effective alternative. If that's the case, Preptrack helps you stay on track. What matters is you do you—and others—safely.
Is it safe to give Preptrack my data?
As you can probably tell, safety is kind of our thing. Whatever you tell us is kept confidential and secure. All great things require consent, and that applies to what we do with your data too.
Preptrack for Android is coming soon.
Not an iPhone user? Join the waitlist and we'll be in touch when our Android app is ready.
We won't use your information for anything else. PrEP is the only blue pill we're interested in.
Volunteer with us
We are looking for anyone that can give us their time or skills to make Preptrack happen. Our team is made up of incredible volunteers that are passionate about making sex safer for everyone, and that starts with making event-based PrEP as easy as can be.
Become a volunteer
Partnerships and fundraising
Are you part of an organisation who shares our vision? We are looking to partner with other charities, trusts, and businesses who can help us with promoting and fundraising for Preptrack.
Talk to us about partnerships